Oh Yes 60 Caps and Jamun Extract 60 Caps Combo pack Supplment for Sugar and Stamina
Rs. 599.00
Rs. 2,298.00
-74% OFF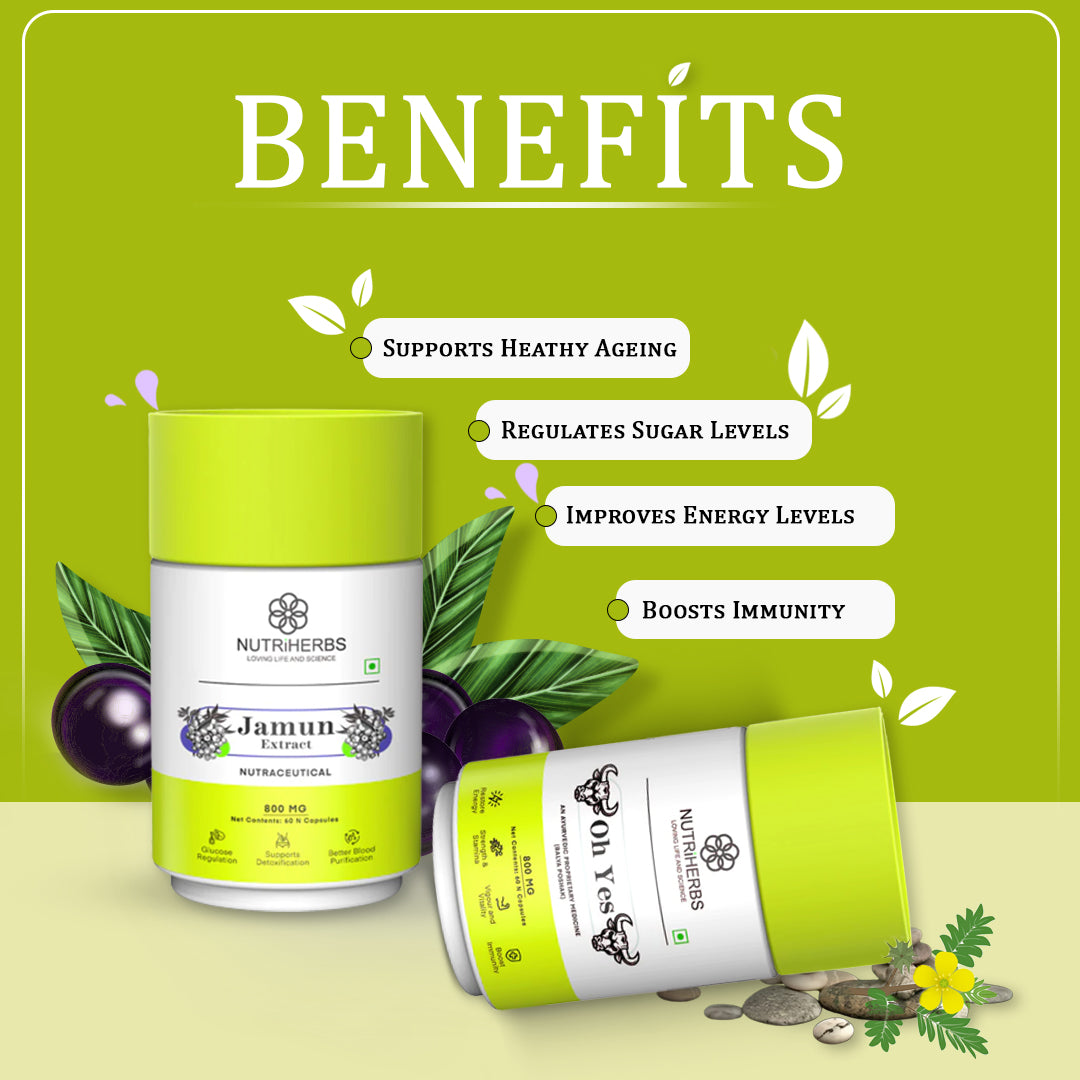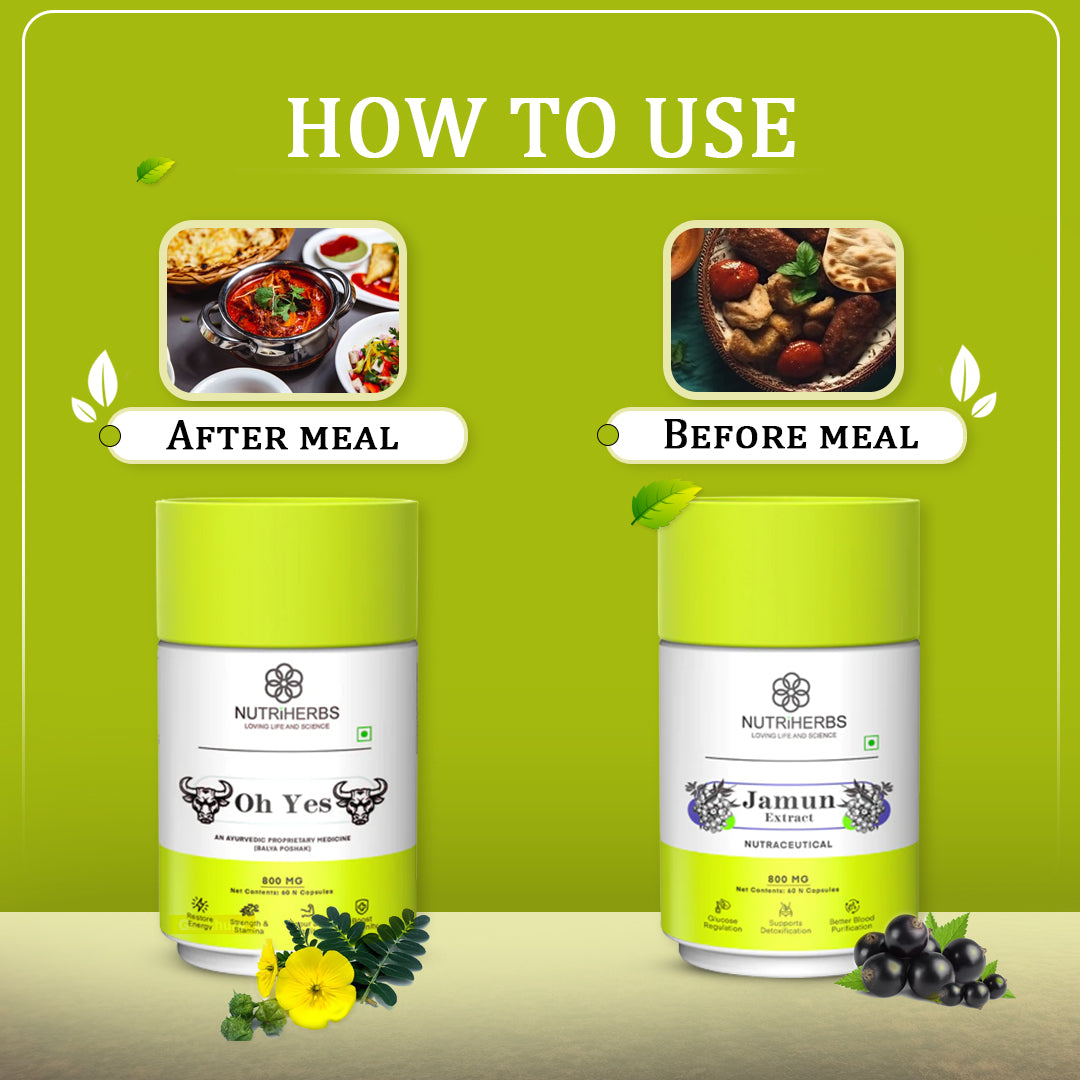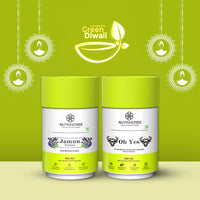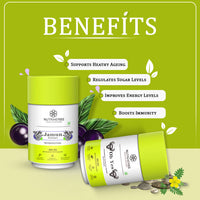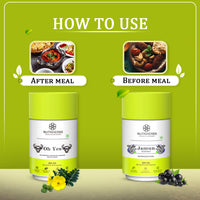 How to Consume NutriHerbs Ohyes Capsules?
One capsule 30 minutes after meals with lukewarm water or milk.
When to Consume NutriHerbs Ohyes Capsules?
Two serving per day after meals or as recommended by your healthcare professional.
Gluten Free
Sugar Free
No Chemicals
Dairy Free
Non GMO
No Artificial
What it Contain?
Nutriherbs ohyes capsules contain 800mg of Kaunch beej, gokhru, moringa, shatavari, safed musli, ashwagandha, and shilajit extract, which is well known for its benefits to physical and mental health. The most powerful, natural anti-aging supplement is now available in capsule form. Shilajit ashwagandha safed musli capsules for men have been used as a remedy to treat difficult cases of sexual dysfunction and infertility among other things; its roots contain an extract that helps with healing wounds while at the same time improving blood circulation. Ashwagandha is a natural herb that has shown great benefits for people who are suffering from chronic fatigue syndrome and depression. It can be used as an extract to make you feel more energetic on any given day while still making it less stressful overall, which is perfect.
6 Thoughtfully Harvested Ingredients
Delicious, organic and fresh – we keep your nutrients intact.
IND
Gokshura
IND
Shilajit
IND
Safed Musli
IND
Kaunch Beej
IND
Moringa
IND
Shatavari
See

all 6 Ingredients

less
See

all 6 Ingredients

less
IND
Gokshura
---
The aphrodisiac properties of this natural remedy are said to help with penile erection and boost energy levels. When taken as an ingredient in capsule form, it has been reported that men can experience increased vitality as well as strength enhancement for their intimate partners; all while achieving better erections.
IND
Shilajit
---
It is a type of rock found only in high altitude regions. Shilajit for men & Women comes from an Ayurvedic plant that enhances those with low libidos. Shilajit for stamina also relieves stress and boosts athletic performance. It has been traditionally used by people living in these regions for its nutritional properties including increasing strength, endurance and mental alertness.
IND
Safed musli
---
Safed musli is a natural supplement that can be used to improve memory and cognitive abilities. It is used in ayurveda for its ability to increase libido, improve fertility, and reduce anxiety.
IND
Kaunch Beej
---
Kaunch Beej is a natural ingredient that is extracted from the seeds of the green and brown kaunch tree. This product has many benefits, such as being a natural source of protein, being gluten free, and having a high level of antioxidants. Kaunch Beej also has some great health benefits such as improving digestion and boosting immunity.
IND
Moringa
---
Moringa contains more than 90 nutrients, including vitamin A, C, E, K; minerals like calcium, iron and zinc; and anti-oxidants. The leaves are rich in protein (more than any other plant) and contain all the amino acids necessary to make protein.
IND
Shatavari
---
Shatavari is a plant that is found in the Indian subcontinent. It grows in the Himalayan region and some parts of Asia. The roots of this plant are used as an ingredient in various Ayurvedic medicines for treating various health conditions. Shatavari is a plant with many medicinal uses. It is often used to treat infertility in women and as a tonic for general health.
Do you really need Ohyes Supplement?
Mind-body balance is not just about the physical dimension, but also about how you feel mentally and emotionally. For this reason, ohyes capsules for men - made from natural herbs grown without any chemicals or preservatives to give you a different perspective on what's trending in wellness these days.
Ohyes capsule for female - Herbs are a great way to live longer and healthier. The powerful safed musli ashwagandha tablet from Nutriherbs will heal your health and offer relief on tiredness in women's menopause symptoms as well.
Have more questions?
We've got the answers!
Is there an upper age limit for using this product?
Nutriherbs Oh Yes can be used by all adults. People with any medical condition should consult a physician before using this supplement.
How does this product function?
This product helps to boosts energy, stamina, endurance, strength and as well as libido, vitality, and general well-being.
Is it all-natural?
Yes, this product is 100% pure and natural as it contains a herbal blend of ingredients that helps improve the body's immune system, it may aid in muscle growth and virility. It may also improve muscles strength in males by increasing testosterone levels.
What is the composition of the capsule?
The capsules of Nutriherbs Oh yes are made up of a blend of ayurvedic ingredients such as Shilajit, Safed Musli, Ashwagandha, kaunch beej, Shatavari, Moringa and Gokuru extract. Each capsule contains an 800mg blend of these ingredients.
Is this a product that is suitable for vegetarians?
Yes, Nutriherbs Oh Yes capsules are suitable for vegetarians because these are 100% vegetarian. These capsules are Hydroxypropyl Methylcellulose capsules (HPMC) and contain pure herbal blend extract of Shilajit, Safed Musli, Ashwagandha, kaunch beej, Shatavari, Moringa and Gokuru, which means these capsules are 100%vegetarian.
What others have to say
Testimonials