L Glutathione Capsules (C)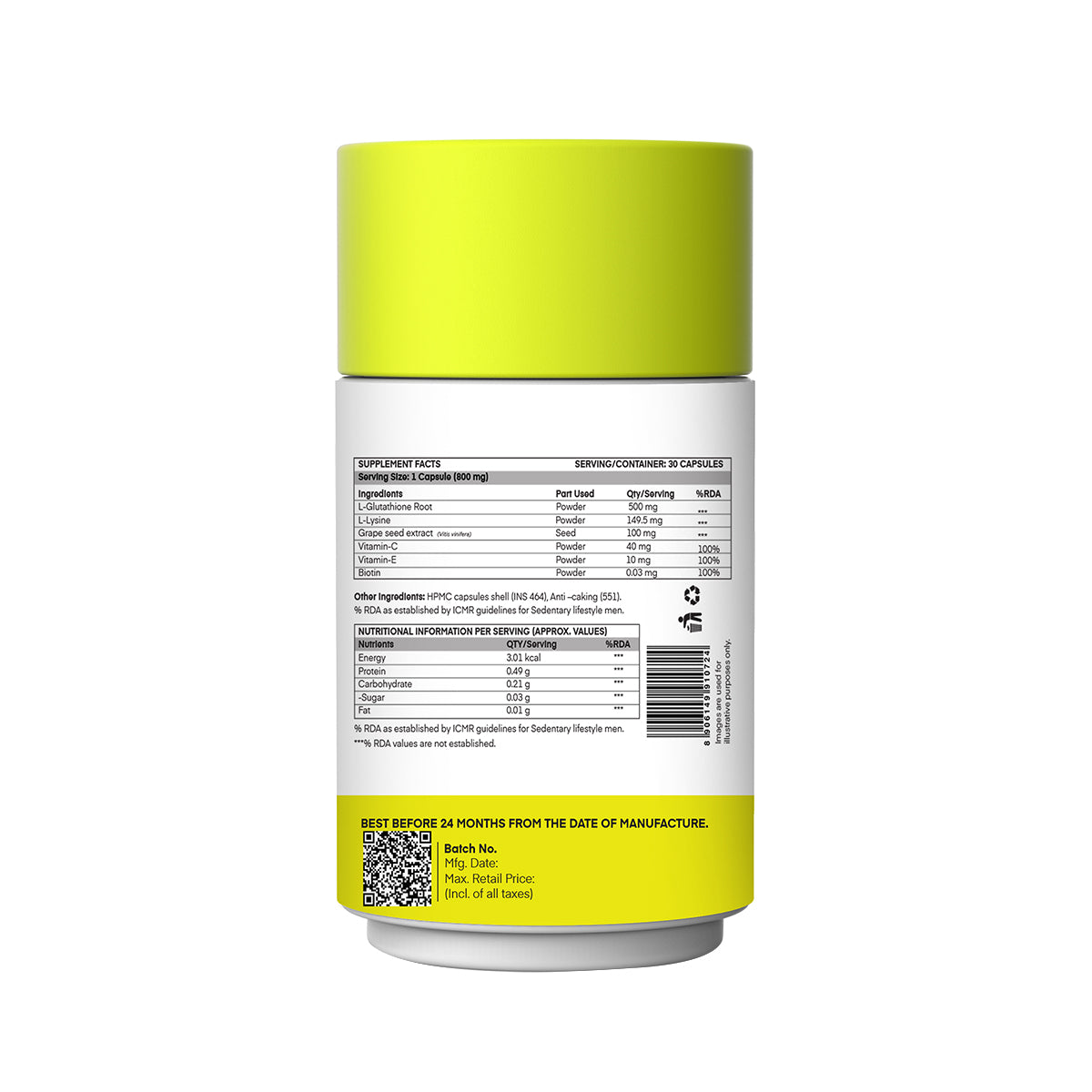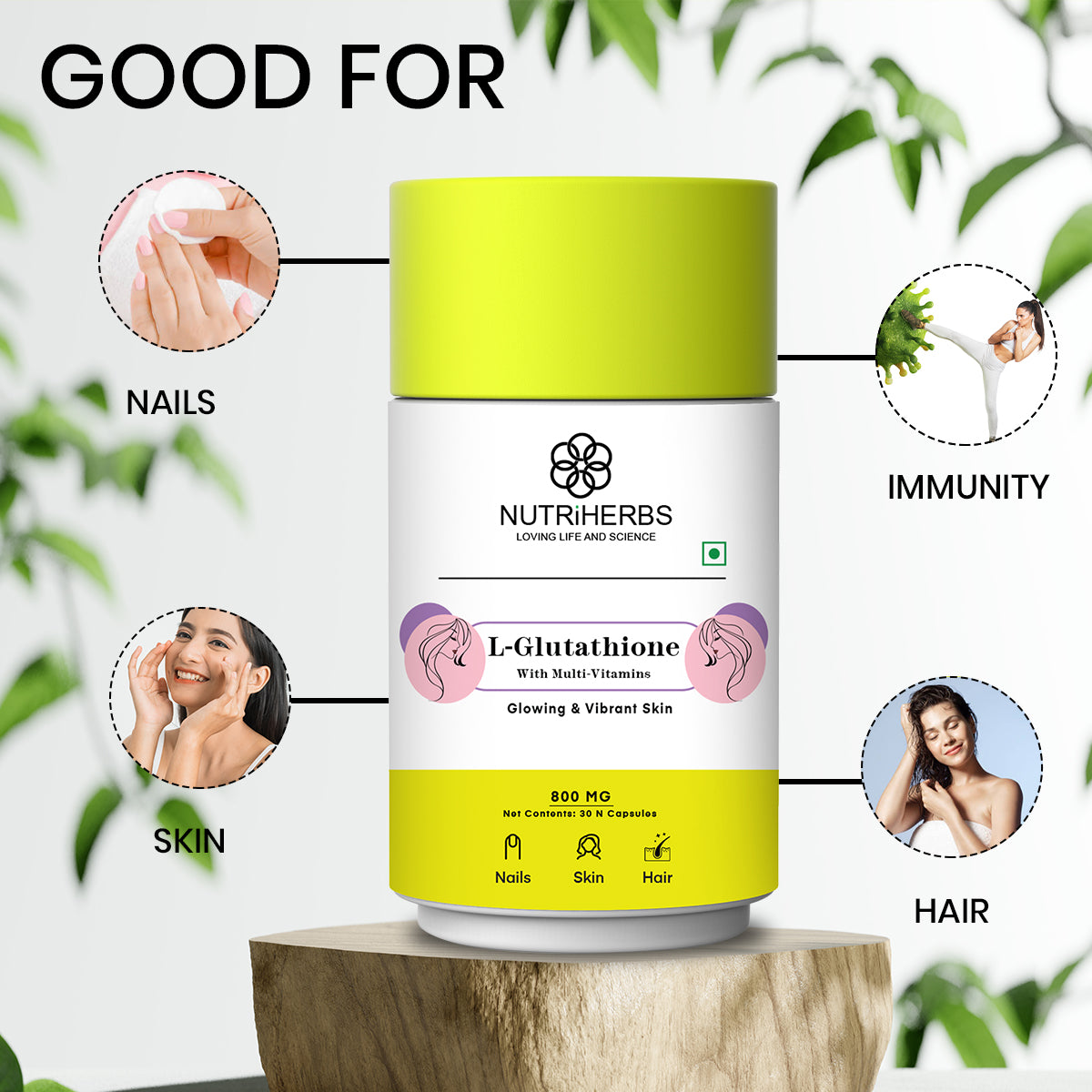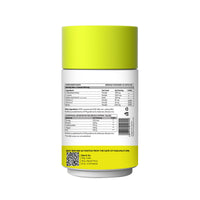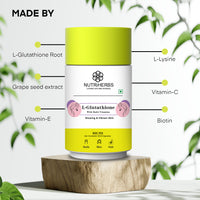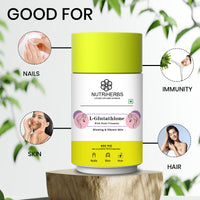 How to Consume NutriHerbs L Glutathione Capsules?
One capsule 30 minutes after meals with lukewarm water.
When to Consume Consume NutriHerbs L Glutathione Capsules?
One serving per day after meals or as recommended by your healthcare professional.
Gluten Free
Sugar Free
No Chemicals
Dairy Free
Non GMO
No Artificial
What it Contain?
Our nutriHerbs L-glutathione is a combination of vitamin c, vitamin e, biotin, and grape seed extract that helps the body get the nourishment it needs to maintain healthy skin, improve skin texture and complexion, reduce pigmentation and blemishes, and protect from UV rays.L-glutathione is a naturally occurring compound that is found in a variety of foods. It is made up of three amino acids: glutamic acid, cysteine, and glycine. L-glutathione is a powerful antioxidant that helps to protect cells from damage. It is also involved in many important processes in the body, including detoxification, DNA synthesis, and protein synthesis.
There are a number of supplements on the market that claim to contain L-glutathione. However, it is important to be aware that many of these products do not actually contain any of the active ingredient. In order to be sure you are getting a quality product, it is important to look for a supplement that is certified by a reputable third-party organization. L-glutathione helps to lessen excessive melanin-based coloration. Additionally, it aids in raising pheomelanin levels, which in turn makes the skin appear more radiant. Additionally, it contains biotin extract, which promotes thicker hair growth.
What are the ingredients?
Delicious, organic and fresh – we keep your nutrients intact.
IND
Vitamin C
IND
Grape Seed Extract
IND
L glutathione Root
IND
L Lysine
IND
Biotin
IND
Vitamin E
See

all 6 Ingredients

less
See

all 6 Ingredients

less
IND
Vitamin C
22.5mg
---
Vitamin C can help heal blemishes, reduce hyperpigmentation, and give your skin an out-of-this-world glow.
Help slow early skin aging, prevent sun damage, and improve the appearance of wrinkles, dark spots, and acne.
IND
Grape Seed Extract
22.5mg
---
Grapeseed helps the vitamin E and vitamin C in your skin to be more efficient and effective at preserving your skin.
IND
L glutathione Root
80mg
---
L Glutathione work for skin lightening, brightening, anti-aging and reduction of wrinkles.
IND
L Lysine
80mg
---
Lysine appears to help the body absorb calcium, and it plays an important role in the formation of collagen
IND
Biotin
80mg
---
Biotin is necessary for formation of fatty acids and glucose, which are used as fuels by the body.
IND
Vitamin_E
22.5mg
---
Vitamin E is an important nutrient that has many benefits.
It helps the skin and hair look healthy, it can help prevent heart disease, and it helps improve brain function.
What does L Glutathione do to your skin?
A potent antioxidant, NutriHerbs L-Glutathione raises the body's glutathione levels as a result of toxicity exposure. Increasing glutathione may have a variety of positive health effects, such as improved skin appearance and detoxification. Glutathione not only decreases the melanin (pigmentation) in your skin, but has also been found to decrease wrinkles and increase skin elasticity. Glutathione works on the skin pigment production by inhibiting tyrosinase, an enzyme involved in making melanin.
Can glutathione make you look younger?
Glutathione holds many anti-ageing benefits. Since it is a natural detoxifier, it improves the health of the body's cells to reverse ageing. Like melatonin, Glutathione protects the skin against oxidative damage which leads to wrinkles - making it an excellent form of anti-ageing skincare.Grape seed is known to stimulate Vitamin C in the body. This may help to strengthen the overall immunity and make your body healthy from within. These supplements are also high in antioxidant content and works well to cleanse the system thereby promoting healthy skin and hair.
Have more questions?
We've got the answers!
What others have to say
Testimonials