Ginkgo Biloba with Brahmi Extract
Rs. 549.00
Rs. 999.00
-46% OFF
One Time Purchase
Net Content: 60 Capsules
Pack of 1
Natural with No Preservatives!
Rs. 549.00 Rs. 999.00 -46% OFF
Net Content: 90 Capsules
Pack of 1
Natural with No Preservatives!
Rs. 682.00 Rs. 1,499.00 -55% OFF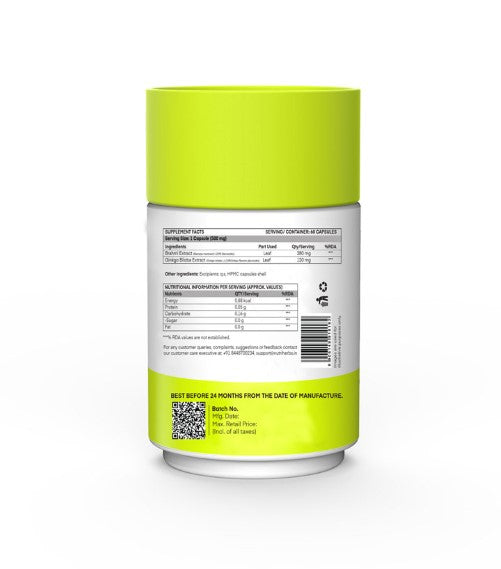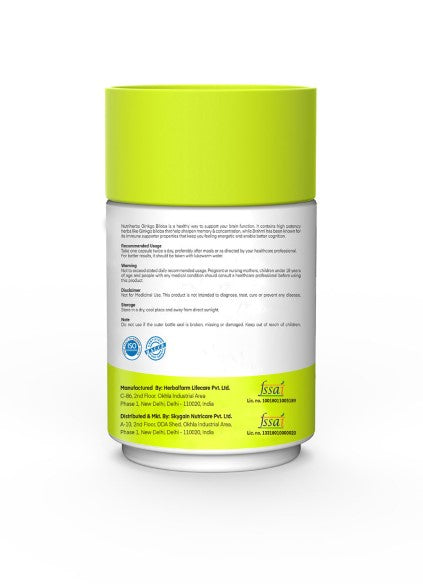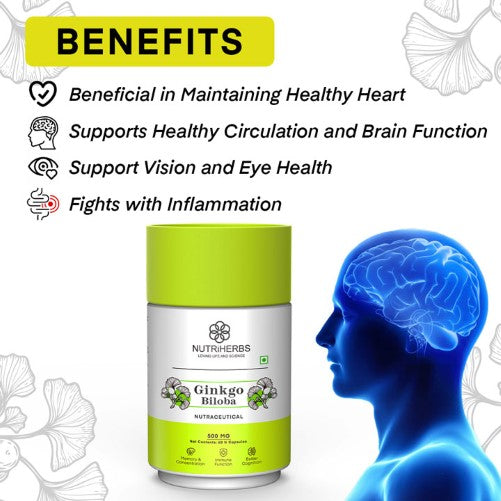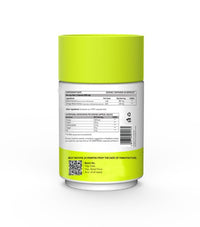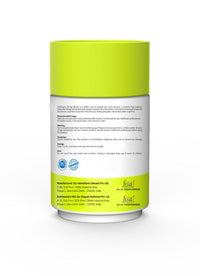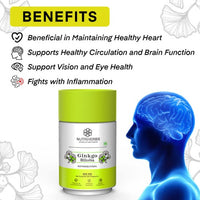 Extra 10% Off On Prepaid Orders
India Shipping (*Free Shipping In India & Cash on Delivery)
How to Consume NutriHerbs Ginkgo Biloba?
One capsule 30 minutes after meals with lukewarm water.
When to Consume NutriHerbs Ginkgo Biloba?
Two serving per day after meals or as recommended by your healthcare professional.
Gluten Free
Sugar Free
No Chemicals
Dairy Free
Non GMO
No Artificial
What it Contain?
Nutriherbs ginkgo biloba capsules are prepared by combining extracts 500mg of ginkgo biloba, and brahmi extract. Each capsule contains 20% bacosides, and 24% ginkgo flavone glycosides, which is a powerful combination that offers many health benefits such as improving brain function or lifting your overall well-being.
The combination of brahmi and ginkgo biloba is known to be extremely effective in maintaining a healthy brain function, mental wellness and perceived well-being. It may help in improving focus and concentration.
It may improve blood circulation in the brain and may help to work as anxiety and stress reliever. It may also help with age-related memory disorders and also work as brain power booster.
What are the ingredients?
Delicious, organic and fresh – we keep your nutrients intact.
IND
Ginkgo Biloba
IND
Ginkgo Biloba
500mg
---
Ginkgo biloba - is an extract from the leaves of the ginkgo biloba tree. It is used for many purposes, including improving cognition and memory. Ginkgo biloba extract is available in various forms, including capsules, liquid extracts, tablets, and teas.
Brahmi extract - comes from a plant called Bacopa monnieri. It has been used in traditional Indian medicine for centuries to improve mental function and treat anxiety disorders. Brahmi extract is available as a supplement in capsule or liquid form.
Do you really need Ginkgo Biloba?
It is packed with antioxidants like flavonoids, terpenoids and may provide defense against oxidative cell and tissue damage from harmful free radicals. It has anti-inflammatory properties which may help in reducing symptoms of inflammation in joints and bones and of the gastro-intestinal tract. It may be helpful in the dilation of blood vessels and may work as blood flow optimizer in the body and maintain cardiac well-being. It may be effective in reducing inflammation of the respiratory passages and improve respiratory health. It also support vision and may be effective in old-age eye-sight problems.
How ginkgo biloba help with memory & focus?
Ginkgo Biloba is a supplement that is used to help with memory and focus. It is most often used by people who have memory problems, such as those who have Alzheimer's disease or dementia. Ginkgo Biloba helps improve blood flow to the brain and has antioxidant properties that may help protect the brain from damage caused by free radicals. The extract from ginkgo biloba leaves contains flavonoids, terpenes, phenolic acids, proanthocyanidins, and kaempferol glycosides. These compounds help improve cognitive function by increasing blood flow to the brain and stimulating neurotransmitter activity.
Have more questions?
We've got the answers!
Total 5 star reviews: 18
Total 4 star reviews: 2
Total 3 star reviews: 0
Total 2 star reviews: 1
Total 1 star reviews: 0
95%
would recommend this product
I do not recommend this product

No any Result

I have order ginkgo biloba last month for my kids he has low memory power didn't benefit anymore.

Works for Me

I have used Ginkgo Biloba for my memory for few months and it works for me.

Great for Memory

Ginkgo Bilbao is part of my life. Can't function without them. They help me remember and they keep me alert.

Wonderful

I absolutely love these. I don't care what anybody says I notice a difference. I am hard to impress but these are great. You're mine just works more clearly, and for those of you. This helps me with clarity. And my memory is enhanced.

Thanks for Amazing Product

I'm 60 years old and disabled and Ginkgo has made a big difference in my mental health!!!
Reviews Loaded
Reviews Added
What others have to say
Testimonials